10.27.2017
Produce Fun with Ms. Garcia!
Connecting new foods to fun experiences is a great way to encourage children to try unfamiliar foods, especially when it comes to produce items that children often shy away from.
Brighter Bites teachers are taking the fun food experience to heart and putting it into action with their Brighter Bites produce. Ms. Gaby Garcia, a Kinder Bilingual Teacher at Betty Best Elementary School in Houston, TX thought up a fun experience for her students that incorporated her Brighter Bites produce, riddles, a magic box, and sentence stems. Take a peek!
Ms. Garcia's Produce Circle Map Game
#1. Ms. Garcia puts the fruits and vegetables in a "magic box", and before pulling them out one by one, she tells her students a riddle to help them guess the item.
#2. After 7 seconds of thinking time, students "pair and share" with a partner before raising their hand and sharing their answer with the class using the sentence stem "I think it's a ___".
#3. After hearing a few answers, Ms. Garcia pulls out the item to a drumroll and students confirm their predictions.
#4. Next, students share ways in which they use the items at home.
#5. Ms. Garcia prepares some of the items for students to taste, like cucumber with lemon, peach, carrot, green onions and lime (a fun one to observe!).
#6. Students each choose one of the food items to draw and put it on a circle map for display in the Kinder hallway.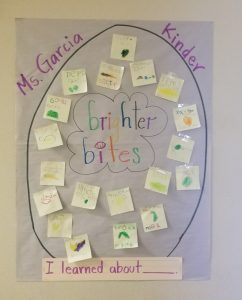 Ms. Garcia additionally brought out homemade sweet potato fries to share with her students the day after the activity. What a success!
"This was such a fun activity for us all," said Ms. Garcia. "Students were engaged and totally fascinated by the riddles. I was happy to find that most students knew every item in the bag and could share a way they used the item at home. The best part of it all was being able to share the delicious and nutritious food items as we sat in a circle and talked about them."
Way to go Ms. Garcia for crafting such a fun food experience!