12.11.2016
#GivingTuesday is Tomorrow!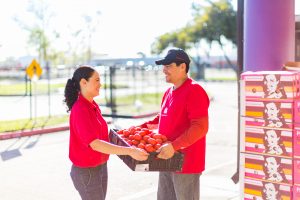 Nourish. Flourish. Give!
Tomorrow is #GivingTuesday. We know you have choices, so here are some facts that might help you make that decision.A donation of $50 will provide 10 Brighter Bites families with…
500 pounds of produce and
20 Brighter Bites nutrition handbooks (one each semester) and
150 produce-based, kid-friendly recipe cards.
Need another reason? Brighter Bites works…
Brighter Bites is a 16-week intervention that offers families a risk-free trial of 8-12 different types of fruits and vegetables along with nutrition education materials that help teach them how to use it. When the program ends, 74% of our families maintain the same level of produce consumption by purchasing the produce on their own.
There are many choices this #GivingTuesday, but when you give to Brighter Bites, you are redefining the way people eat, and that my friend is impactful.
Last year more than 700,000 people raised over $116,000,000 online in just one day. You can give the gift of time, donations, goods, or your voice. It's your choice.
Make an impact this holiday season. Give back with Brighter Bites!