2.5.2018
Food Waste News, Vol. 4
From start-ups to technology to a new cooking method, this week's roundup has a little bit of everything. Be inspired by big companies using technology to help you not only reduce food waste but to also get more for your money. Pair these methods with root to stem cooking, and reduce your food waste tenfold!
FoodMaven
Backed by heirs of Walmart and former co-CEO of Whole Foods, FoodMaven is a new food-waste startup that is taking a for-profit approach to dealing with food excess. CEO Patrick Bultema argues that this model is the start of solving "our inefficient 1950s-style food system" by intercepting oversupplies of food at all levels of the food chain and then reselling these products on an online marketplace at almost half the price. FoodMaven also happily accepts items discarded for cosmetic reasons and redistributes unsold items to local food charities. FoodMaven is currently operating in Colorado with over 700 restaurants and institutional buyers on board and has plans to expand to at least 50 more cities in the next five years.
Explore their website here: https://foodmaven.co/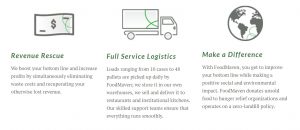 Whirlpool
Most people know Whirlpool as an American home appliance manufacturer, but many probably don't know about their recent efforts to reduce food waste in people's kitchens. After their 2017 purchase of Yummly, a recipe network with over 2 million recipes, Whirlpool is pairing the acquisition paired with their new tech savvy appliances to reduce the amount of food people throw away in their kitchens. A new app, which Whirlpool will debut later this year, will generate recipe ideas from pictures that customers snap of the food items that remain in the fridge. The app will then sync with Whirlpool's newest line of stovetops that feature a five-inch touchscreen, which will display step by step instructions for a tasty, less waste-y meal. The future feels just around the corner! What a neat and innovative way to reduce food waste.
Read more here.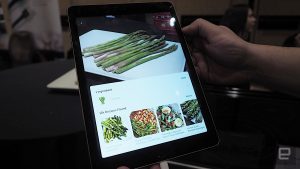 Root to Stem Cooking
It's easy to think some food waste is unavoidable (think the leafy ends of carrots or the skins of potatoes). But public attention around the issue of food waste has resulted in a new cooking method to reduce the amount of waste from those "unusable" parts. Welcome to root to stem cooking! Head chef of Purple Carrot, Andrea Nordby, tells us that the easiest way to cook with scraps is to not remove them in the first place. Many skins and peels will add flavor to whatever dish you are making – just make sure to clean them before. Leafy parts that are usually discarded, like on carrots, can also be used in salads or sautéed with other veggies. So don't throw away those scraps just yet!
Check out Shape magazine for more inspiration on root to stem cooking.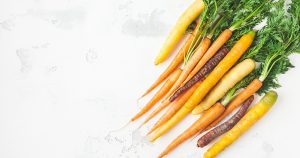 By Alaina Spencer, Food Writer