12.6.2016
Brighter Bites Program Coordinator Honored at Ceremony in Galveston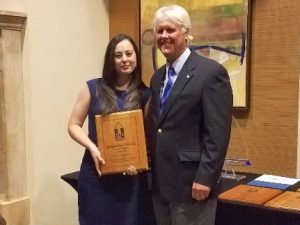 2016 Texas CATCH Champion Jacqueline Noyola with CATCH Program Director Peter Cribb after the award ceremony in Galveston, TX. 
A few months ago we shared wonderful news about Brighter Bites Dallas Program Coordinator Jacqueline Noyola when she was chosen as one of the 2016 Texas CATCH Champions. CATCH stands for Coordinated Approach To Child Health and is scientifically proven to be a highly-effective health, physical activity, and nutrition education program for children from all backgrounds. The CATCH Champion Award recognizes individuals for their untiring dedication to create healthy environments for the children in Texas.
On Thursday, December 1, Jacqueline and the seven other Champions were honored at a ceremony at the Moody Gardens Hotel in Galveston, Texas. Jacqueline attended the event with her husband, Brighter Bites Dallas Program Director Alicia Farhat and Brighter Bites Senior Program Director Mike Pomeroy. "Being selected as a 2016 Texas CATCH Champion has given me tremendous encouragement and inspiration!, said Jacqueline recently. "I'm honored to be recognized among such a talented and experienced group of school health professionals and I'm thrilled that Brighter Bites has been recognized for the implementation of our nutrition education pillar."
A warm congratulations to Jacqueline for her continuous efforts to innovate and strengthen the methods Brighter Bites uses to reinforce the CATCH programming at Brighter Bites schools.